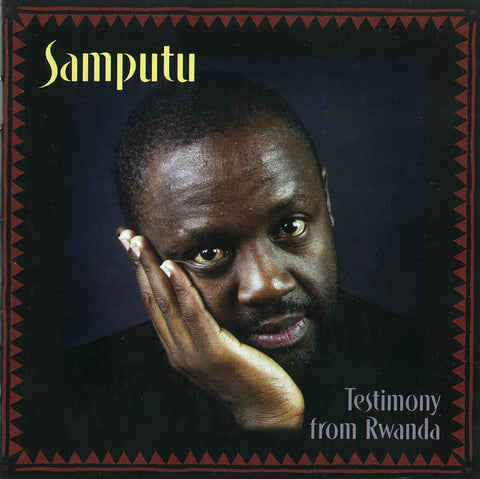 Samputu: Testimony From Rwanda MCM-4003
---
---
Digital Download available from your favorite site including
This acclaimed recording (see the review from Afro-Pop Worldwide below) from Jean Paul Samputu is the musical fulfillment of the "promise" embodied in his 2003 Kora Award for Most Promising Male Artist from Africa. 
Testimony from Rwanda is his first acoustic recording and his first American recording (produced by Stephen McArthur). It blends styles and traditions that are embedded in his very musical being; 5/8 dance rhythms, ballads, soukous, gospel, African rhumba, and pygmy, among others. 
His strong, clear and beautiful voice, harmonizes and leads in soaring passages, and whispers in quiet ballads. His versatility testifies to his command of four languages, many African styles, genres and traditions, as well as blues and gospel beyond Rwanda. He sings in sweet tenor and alto voices, in falsetto, as well as in low baritone growls, an airy South African style, and in the pygmy (intwatwa) style of southern Rwanda. He ululates. Even his yelling is musical.
The powerful song 10 Years Remembering is one he wrote soon after arriving in the United States in 2004 to commemorate the 10th anniversary of the genocide in Rwanda. 
Rehema is a lively Rwanda traditional-style dance tune which tells the story of a young Christian man who falls in love with a Muslim girl. Ngarambe is another traditional Rwandan rhythm (in 5/8). Singizwa is a gospel song based on traditional pygmy (intwatwa) style which praises God. Rwanda Rwiza is dedicated to "Beautiful Rwanda." Tuzagera is national gospel-tinged song performed in a straight-ahead soukous dance style. Twararutashaye is Samputu's plea to fellow Rwandans to return to Rwanda after the genocide. Other songs include Karame Mwana, Migabo, Mana Wari Uri He, Aliwokoka, Tamara, and a bonus track a capella version of 10 Years Remembering.  Read the Afro-Pop review below for more insights into the songs.
He is accompanied on this recording by Aron Niyitunga (from Burkina Faso), his longtime friend and a tremendously versatile musician who plays guitars, keyboard and bass. Aron sings a solo part on Karame Mwana (Cherish The Children) and some backup, and even does a powerful short rap on the song 10 Years Remembering. His guitar playing reflects his expertise in many African and American guitar styles. Jordan Mensah from Ghana plays hand drums and hand percussion.
Listen to Samples
CD Review – Testimony from Rwanda – Afropop Worldwide 
"The tenth anniversary of the Rwanda genocide offers an occasion for reflection that the world has largely shied away from.
Of course, nowhere is this reflection more important than within Rwanda itself, so it is heartening to find such a strong musical voice emerging from the country with songs that remember the horrors of a decade ago, but also offer a hopeful vision for the future.
Samputu sings in six languages with a powerful, nuanced voice, part Joseph Shabalala, part Lokua Kanza, and part Lionel Ritchie. The songs on his international debut recording span soaring balladry, village celebration, and Congolese dance music. If this all sounds too sunny for a singer who lost his parents and four siblings in the genocide, rest assured that there is plenty of melancholy woven into these 14 tracks. But Samputu's main objective is not to so much to probe the causes of his nation's ethnic holocaust, but rather to help the country rise to its feet and chart a more positive course for the future, with God's help.
Born in 1962, Samputu formed his first group in 1982, so he's no newcomer to the process of crafting pop songs that benefit from the rich cultural milieu of Central Africa. The experience shows in the scope and polish of his work. On "Singizwa" (Praise Be To God), clanging ankle bells lay out pendulous 5/8 rhythm — common in Rwanda — and Samputu sings with the rough edges and articulations of a village shaman, even as a chorus of backing voices brings in the feeling of African gospel music. That complexity — the tension between roots and modernity, animism and Christianity — graces the best of these songs. "Rehema," a rolling, 12/8 number with gentle, Congolese flavor, tells the story of a Christian boy who vows to convert so he can be with his beloved Muslim girl. The arrangement builds to a satisfying peak — a tangle of three guitars against tugging polyrhythmic percussion and a harmonized vocal refrain.
Other high points include "Twararutashye," a sweet celebration of homecoming, "Rwanda Rwiza (Beautiful Rwanda)," with its bluesy vocal opening and deep male chorus reminiscent of Zulu polyphony, and especially "Ngarambe," which returns to that distinctive 5/8 feel with damped guitar, mysterious choral vocal, and theme about a man who refuses material gifts in hopes of retrieving some undefined happiness. On "Migabo" (Courageous Warrior), Samputu growls richly as he reminds us of the true role of a warrior, to serve and guide — by implication, not to kill without thought or remorse..."
---
We Also Recommend
---