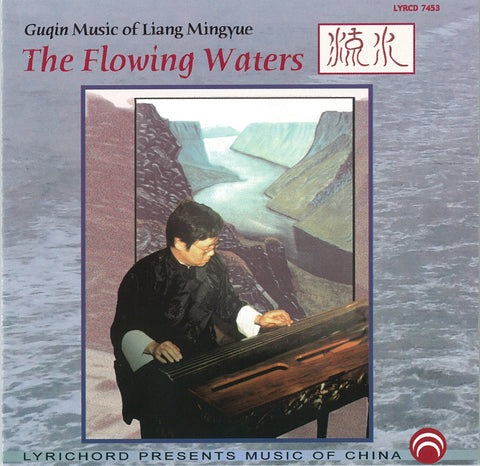 The Flowing Waters: Guqin Music of Liang Mingyue DOWNLOAD ONLY LYR-7453
---
---
Digital Download available from your favorite site including
Download free liner notes below (Mac users use Ctrl + click)
"Liang is a musician equally fluent in Chinese and Western idioms, and in the U.S. he has been active in both Western concert music and jazz. Here, however, the music he plays is traditional in nature. The opening piece, Youlan, or Lonely Orchid, is presented as the oldest extant work for the qin, dating back to 590 C.E. Liang discusses problems of notation and tuning connected with this work, but it seems clear that, whatever the difficulties, the modern player can approach the intentions of the original composer more closely than in the case of Western works of comparable antiquity. For the Western listener this is worth consideration as an introduction to one of China's great instrumental traditions."
James Manheim, ALL MUSIC GUIDE
Boundaries between the traditional music of the ancients, and those sensibilities honed in a more recent era, melt away in the hands of award-winning composer and Qin master David Mingyue Liang, as he interprets, reinvents and honors some of the greatest ancient music ever written for this most entrancing of instruments.
"The Power of music is amazing, beyond words and beyond each individual note. Music has been shown to prevail over intellectual and material differences, and to be able to foster kindred feelings among fellow humankind." - David Mingyue Liang
Tracks
1)
Youlan, Lonely Orchid
- 12:35
2)
Yuge, Song of the Fisherman
- 17:18
3)
Liushui, Flowing Waters
- 10:27
4)
Lisaonong, An Impromptu on Lisao, Encountering Sorrow
- 16:22
Total running time: 56:43
Additional Information
Click here to read complete ALL MUSIC GUIDE review!
---
We Also Recommend
---