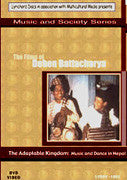 Adaptable Kingdom: Music and Dance in Nepal
---
---
This film takes the viewer to a kingdom in the Himalayas, where tribal animism, Buddhism, and Hinduism live in harmony. In the folklore of Nepal, religious mask-dances with the sound of large barrel drums illustrate the age-old battle between good and evil. We also hear a gayen, the itinerant singer of the Nepalese folk tradition, side-by-side with temple songs.
"These films include some fascinating general footage, always with traditional music as background, as well as some valuable and sometimes extended scenes of genuine ceremonies and events. " Dr. Terry Miller, Department of Ethnomusicology, Hugh A. Glauser School of Music, Kent State University
One DVD program with English narration. 27 minutes. Film originally released in 1972.
---
We Also Recommend
---