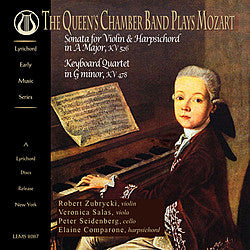 The Queen's Chamber Band Plays Mozart - DOWNLOAD ONLY LEMS-8087
---
---
Digital Download available from your favorite site including
Download free liner notes below (Mac users use Ctrl + click)
Review from MusicWebInternational
"Mozart on the harpsichord rather than the fortepiano is unusual – indeed, the Lyrichord booklet claims that this is perhaps the first recording of K526 on this instrument, which I have no doubt is correct. The three other 'authentic' performances which I know – Schröder and Orkis on Virgin (6932182), Mackintosh and Govier (Chandos CHAN0772 – from 
theclassicalshop.net
, mp3 and lossless) and Podger and Cooper on Channel Classics (CCSSA24607 – from channelclassics.com, mp3 and 24/44, 24/96 and 24/192 lossless) employ the fortepiano. If Mozart wrote on the score pour fortepiano ou clavecin, the latter term would include the harpsichord. Indeed, there are those who believe that Mozart was still employing the harpsichord to double the solo line in his keyboard concertos and I believe that the 'joke' harpsichord which tinkles away on its own for a few bars at the end of Haydn's Symphony No.98* can be explained only on the assumption that it was still being used to fill out the orchestral sound as late as the London symphonies. More to the point, the harpsichord works here – for me at least.
The first movement of K526 is taken at a sedate pace by comparison with Schröder and Orkis and Mackintosh and Govier, with Podger and Cooper adopting a tempo somewhere between the two. To be honest, I didn't think Zubrycki and Comparone slow until I listened to the Virgin and Chandos recordings but I do prefer the faster tempo now that I've let that cat out of the bag. Avoid making the comparison and you'll be more than happy with the Lyrichord. Again in the slow movement the Lyrichord players are slower than the competition and in the finale marginally slower, but they make the chosen tempi work. As is so often the case, all four recordings make perfect sense within their own context.
The Keyboard Quartet also works well with harpsichord. Again, as far as I know there are no direct competitors so, as I found the performance idiomatic and enjoyable, the album as a whole can certainly be recommended, apart from a slightly rushed ending to the finale, as if the performers couldn't wait to get to the finishing tape. It's a much better-known work, of course, and some may think its status diminished by the use of the harpsichord; it's better to accept it as an alternative take on an old friend – unless you're totally averse to the instrument, in which case, of course, you won't even be considering this recording."
Brian Wilson,
Download Roundup  
MusicWebInternational July, 2012 The Queen's Chamber Band play Mozart's Sonata for Violin and harpsichord in A Major, KV526, and the Keyboard Quartet in G minor, KV178 with breathtaking virtuosity, profound historical knowledge, and extraordinary musical sensitivity.
THE TRACKS
1. Sonata For Violin & Harpsichord In A Major, KV 526: Molto Allegro
2. Sonata For Violin & Harpsichord In A Major, KV 526: Andante
3. Sonata For Violin & Harpsichord In A Major, KV 526: Presto
4. Keyboard Quartet In G Minor, KV 478: Allegro
5. Keyboard Quartet In G Minor, KV 478: Andante
6. Keyboard Quartet In G Minor, KV 478: Rondeau
Additional Information
See The Queen's Chamber Band, harpsichord unlimited website.
---
We Also Recommend
---