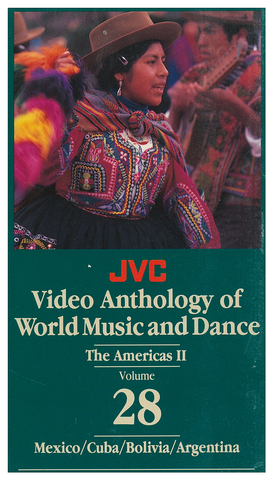 JVCVOL28 - Americas II -- Mexico, Cuba, Brazil, Bolivia, Argentina - Vol 28
---
---
THE AMERICAS II - Vol 28

This video is part of the JVC Video Anthology of Music and Dance of the World.

Mexico
28-1 Cancin ranchera - ranch song: "Ay Jalisco. no te rejes"
28-2 Dance with mariachi [string and brass] ensemble: "Jarabe Tapati" ("Mexican hat dance")

Cuba
28-3 Guajira - folk song: "Guantanamera"
28-4 Controversia - dialogue song
28-5 Son [song and dance] at the Casa de la Trova: "Intimate calls"
28-6 Voodoo gathering
28-7 Samba - song and dance form
28-8 Capoeira - dance derived from martial art
28-9 Candomblé - religious observance

Bolivia
28-10 Modern folk song: "Qunapaqui" ("Why?")
28-11 Modern folk song: "Waritay" ("My little star")
28-12 Modern folk song: "El Cndor Pasa" ("The condor passes"
28-13 Modern folk song: "Manaachu" ("No longer")

Argentina
28-14 Tango - dance form: "La Cumparsita" ("The masquerade")
28-15 Tango - dance form: "El Choclo" ("Corn")
28-16 Chorus: "Hail Boca"
28-17 Chamamé - gaucho song: "Merceditas"
---
We Also Recommend
---