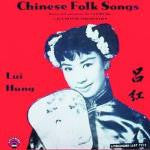 Chinese Folk Songs LAS-7152
---
---
Digital Download available from your favorite site including
Download free liner notes below
Part of the Lyrichord Archive Series - Never before released recordings on CD from the Lyrichord vaults!
Miss LUI HUNG is a noted Cantonese singer, with many recordings to her credit. She is the daughter of Lui Man-Sing, one of the foremost Chinese musicians of the 20th century, and was regarded as a "child of wisdom" as a 10-year old. She distinguished herself in classical Cantonese songs as well as modern Cantonese and Mandarin songs. She is equally expert in playing Chinese music, acting in Chinese opera, and dancing in Chinese classical and folk dances. Miss Lui has toured the United States, Canada and South-East Asia many times, and was been praised as the "Song Bird of South China" in the American Press. These ten ancient folk songs are performed beautifully by her and her accompanists on cheng, san-sen, nan-hu, pipa, yang-chin, dar-gue, song-sing, and ding-ling, among other instruments.
Tracks:
1. Picnic in Spring - 4:49
2. The Choice of A Lover - 3:31
3. The Sorrow of Lady Wang Chao-Sun - 6:18
4. Sweet Memory of Repose - 3:21
5. West Lake Under Autumn Moonlight - 3:35
6. Heavenly Song - 4:36
7. Swallows Return When Willows are Green - 3:33
8. Warning of Autumn - 5:28
9. Love in Three Stages - 3:14
10. The Agony of Autumn - 4:53

Lyrichord, in association with Multicultural Media, is pleased to present the Lyrichord Archive Series. This series will make many important Lyrichord recordings of the past available again for the first time in years. These are special-edition compact discs with liner notes. illustrations and photographs reproduced as .pdf files, and included right on the same CD as the audio program. These liner notes can then be downloaded and printed out or saved on any computer.

The Lyrichord Archive Series is designed with students, libraries, educational institutions, music historians and music enthusiasts in mind and is not available in stores. 
---
We Also Recommend
---