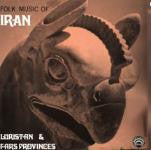 Folk Music of Iran LAS-7261
---
---
Digital Download available from your favorite site including
Download free liner notes below
Part of the Lyrichord Archive Series - Never before released recordings on CD from the Lyrichord vaults

REVIEW
"The Lurs are a group of semi-nomadic tribes native to the Zargos Mountains southeast of Tehran, while the Fars province is in southern Iran near Isfahan. It is the birthplace of the Persian language, as is reflected in the name, Farsi. This excellent recording dates from 1972 and features instruments that will be familiar to Middle Eastern music devotees, such as the nay (bamboo flute), the setar (long-necked lute), the kemantche (spiked fiddle), the zurna (a double reed), and the dombek, daf, and naghareh (drums). Generally no more than two musicians are heard at a time. Translations of song lyrics are given, but almost no other information about specific pieces is provided, as indeed was not unusual for recordings of that period. Despite that detail, this remains a highly desirable record for listeners who want to hear the real article, because the music is stunning. It's nice to see Lyrichord making its outstanding back catalog available again."
Duck Baker - Dirty Linen June, 2006

A classic Lyrichord recording by world music pioneer Verna Gillis. Ms. Gillis recorded this fascinating field work during one of her trips to Iran in the early 1970s. She ventured deep into the Zargos mountain region to Luristan, and to the southeastern Fars province - the birthplace of the Persian language, Farsi. On this recording, she captured the indigenous folk and love songs and traditional instruments of these ancient people.
Instruments on this recording include the Nay, Setar, Zurna, Dumbeck, Kemantche and Narghareh drum. All texts of songs are included.

Tracks:
1. Love song - 4:48
2. Zurna and naghareh solo - 4:55
3. Love song - Kematche, dombek, male singer - 5:26
4. Love song - Kematche, dombek, male singer - 5:10
5. Nay solo - 4:35
6. Love song - Setar and male singer - 5:29
7. Love song - Nay and male singer - 4:15
8. Love song - Zurna, dombak, daf and male singer - 5:18


Lyrichord, in association with Multicultural Media, is pleased to present the Lyrichord Archive Series. This series will make many important Lyrichord recordings of the past available again for the first time in years. These are special-edition compact discs with liner notes. illustrations and photographs reproduced as .pdf files, and included right on the same CD as the audio program. These liner notes can then be downloaded and printed out or saved on any computer.

The Lyrichord Archive Series is designed with students, libraries, educational institutions, music historians and music enthusiasts in mind and is not available in stores.
Additional Information
Go to legendary producer Verna Gillis' "Soundscape Presents" arts, education and performance website. 
---
We Also Recommend
---