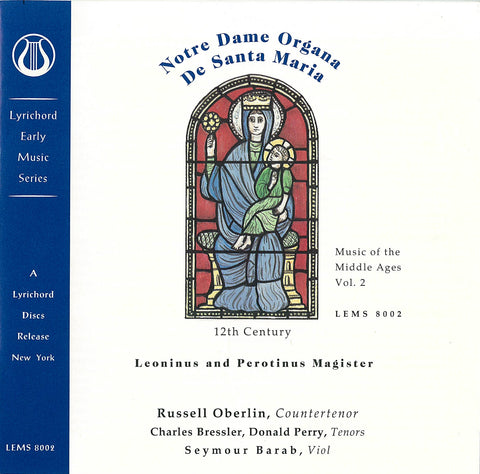 Music of the Middle Ages, Vol. 2: Notre Dame Organa Leoninus and Perotinus Magister (12th Century) - DOWNLOAD ONLY LEMS-8002
---
---
Digital Download available from your favorite site including
Download free liner notes below (Mac users use Ctrl + click)
***"Perotinus extended the simple polyphony of Leonin from two to three and four parts, and the ear is very aware of the intervals which characterize the organum: unison, octave, fourths and fifths. This music is more florid, freer than the coupled works written several decades before. The performances here are totally compelling and the recording excellent."  - THE PENGUIN GUIDE TO RECORDED MUSIC 2003
Almost eight centuries have passed since Maurice de Sully, Bishop of Paris, began the construction of the Cathedral of Notre Dame, one of the most magnificent centers of worship ever erected. At the same time, Notre Dame's composer Leonin completed his grandiose plan of providing polyphonic settings for celebration of the major liturgical feast days at the new Cathedral. Thirty years later his successor, Perotin expanded and enlarged on these works. These complex and pivotal compositions are performed to perfection by an exceptional vocal trio that is truly equal to the task, featuring the legendary countertenor Russell Oberlin, Charles Bressler and Donald Perry, tenors, with Seymour Barab viol, under the direction of Saville Clarke.
Includes liner notes by William G. Waite, and full Latin texts with English translations.
Tracks:
1.
Liber Organi, Viderunt Omnes
- 7:37
2.
Alleluya Epulmur in Azmis
- 5:25
3.
Magnus Propter Veritatem, gradual
- 6:45
4.
Gaude Maria Templum
- 6:56
5.
Alleluya, Nativitas, organum for 3 voices
- 7:39
6.
Sederunt principes, organum for 4 voices
- 12:06
Additional Information
See more info on Russell Oberlin on Bach-Cantatas.com
More bio information on Russell Oberlin from 1960
---
We Also Recommend
---