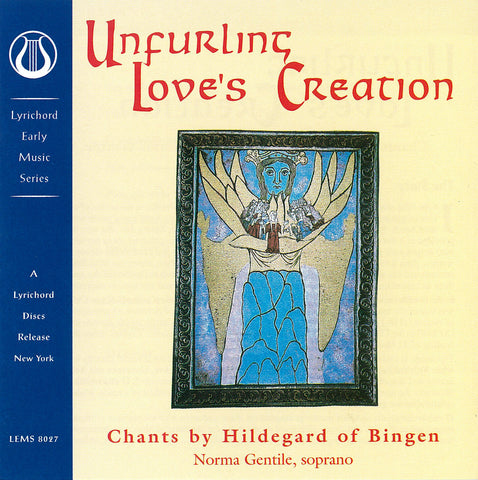 Unfurling Love's Creation, Chants by Hildegard von Bingen DOWNLOAD ONLY LEMS-8027
---
---
Digital Download available from your favorite site including
Download free liner notes below (Mac users use Ctrl + click)
"The famous medieval legend of Saint Ursula, daughter of a British king, tells of a three-year pilgrimage to Rome with 11,000 other women (in fact more likely a party of 11, expanded in the storytelling), who were slaughtered on their return journey by Attila the Hun for refusing to become concubines, and were thus martyred. Hildegard's chants in this collection reflect her response to their sacrifice. Norma Gentile sings them radiantly, and they soar up over a constantly sustained drone choral pedal. Beautifully recorded, but not to be played all at once, this collection is one of the more memorable CDs of Hildegard's very remarkable and individual melismas."
-THE PENGUIN GUIDE TO RECORDED CLASSICAL MUSIC 2009
Finally, a definitive "Hildegard" CD by the world's foremost exponent of the music and spirit of this 12th Century, mystic visionary!
More than 800 years after her death, musician, mystic, author, naturalist and abbess Hildegard von Bingen (1098-1179) has at last found universal recognition as one of history's most brilliant visionaries. On Unfurling Love's Creation, soprano Norma Gentile offers the definitive "Hildegard" performance -- a powerful, yet serene realization of pure spiritual devotion, exquisitely expressed through the human voice. Norma Gentile, soprano, holds bachelor's and master's degrees in Voice Performance from the University of Michigan. She resides in Ann Arbor where she teaches voice, coaches small ensembles, and teaches a form of auric healing. Her study of esoteric healing influences her singing and teaching styles. Her concerts are regularly recorded by National Public Radio stations wherever she performs. She enjoys introducing people to the music and spirit behind Hildegard's chants via concerts, workshops and is recognized one of the world's foremost interpretors of Hildegard's music.
Tracks:
1.
Rex noster promptus est, response for the Holy Innocents
- 4:29
2.
Hodie aperuit nobis (Nunc aperuit nobis), antiphon
- 1:49
3.
O splendissima, antiphon
- 9:46
4.
Ave Maria
- 9:46
5.
Ave generosa, hymn
- 5:41
6.
Karitas habundat (Caritas abundat), antiphon
- 1:56
7.
Spiritui sancto honor sit, response
- 7:03
8.
O rubor sanguinis, antiphon for Saint Ursula & her companions
- 2:12
9.
O eterne Deus, antiphon
- 2:14
10.
O clarissima mater, response
- 9:54
11.
O ecclesia occuli tui, sequence for Saint Ursula & her Companions
- 8:01
More Reviews!
Additional Information
Go to Norma Gentile's website "healing chants.com"
---
We Also Recommend
---