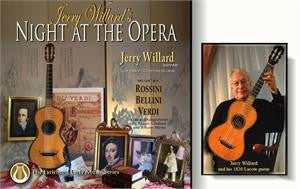 Jerry Willard's Night at the Opera DOWNLOAD ONLY LEMS-8074
---
---
Digital Download available from your favorite site including
Download free liner notes below (Mac users use Ctrl + click)
"Here is a fine recording of operatic potpourris from the 1800's, adapted for the guitar from their original scores by  Mauro Giuliani and Johann Kasper Mertz. The operas under  consideration are Semiramide and Cenerentola by Rossini,  La Traviata, Rigoletto, and II Trovatore by Verdi, and the  lesser-known La Sonnambula by Bellini. In our own time, it is easy to overlook the historical importance of the operatic potpourri and to question the validity of anyone (even  Giuliani or Mertz) making such adaptations. But in the years before wax cylinders, phonographs, and iPods, such adaptations for home use were commonplace, whether for piano or guitar or chamber ensemble. Hausmusik, in those bygone  days, always meant live performances, not absent-mindedly turning on the stereo system while passing through the den.  Needless to say, these pieces are not exactly on the everyday  classical guitar player's fingertips, although in many cases the  melodies are quite familiar. It is apparent with every note  that Willard has spent considerable time studying the operas  in order to get the phrasing as nuanced as possible. To make  things even more enjoyable, he performs the entire disc on an 1820 Rene Francois Lacote guitar. In the early 1800s Lacote  was one of the great makers, along with Panormo, so more of  his instruments have withstood the ravages of time and world  wars to survive until our own epoch.  There are detailed album notes included, outlining each of  the potpourris as well as a history of the instrument used. It is certainly well worth having this disc to get an inkling of what  musical life in Paris some 180 years ago may have been like."
- David Nortort Soundboard and the Guitar Foundation of America. Fall 2010
On his fourth solo Lyrichord album, guitarist Jerry Willard brings us several best loved themes from the operas of Rossini, Verdi and Bellini and they are given a virtuoso treatment in rarely performed guitar arrangements by Mauro Giuliani 1781-1829 and Johann Mertz 1806-1856. Mr. Willard plays an original instrument tuned to low pitch A=415 made by one of the greatest guitar makers of the early 19th century: Rene Francois Lacote Paris 1820.
Tracks:
1.
Allegro/Andante (from Semiramide)
Giuliani/Rossini (7:18)
2.
Overture from Cenerentola
Giuliani/Rossini (8:30)
3.
Fantasy on Themes from La Traviata
Opus 8 Opern-Revue No. 29 Johann Mertz/Verdi (11:41)
4.
Fantasy on Themes from Rigoletto
Opus 8 Opern-Revue No. 21 Johann Mertz/Verdi (11:51)
5.
Fantasy on Themes from Il Trovatore
Opus 8 Opern-Revue No. 27 Johann Mertz/Verdi (12:06)
6.
Fantasy on Themes from La Sonnambula
Opus 8 Opern-Revue No. 4 Johann Mertz/Bellini (10:55)
See Jerry Willard's video on "
A Night at the Opera"


Go to Jerry Willard's website!

---
We Also Recommend
---