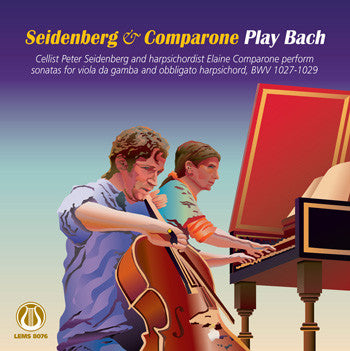 Seidenberg & Comparone Play Bach DOWNLOAD ONLY LEMS-8076
---
---
Digital Download available from your favorite site including
Download free liner notes below (Mac users use Ctrl + click)
REVIEWS:
"...The way Seidenberg plays with trills, as in the Andante of BWV 1027, ornamentation and even double-stops is totally enchanting, always seeming spontaneously thought up on the, spot as real musicians do when they're not in front of the recording microphone. ...The sound is immediate and strikes an excellent balance between the two instruments, in itself an audiophile feat. As is often the case, when paired with the harpsichord the tone of most cellos seems to become slightly nasal; the softer gamba is more along the lines of what Bach probably intended even if he was a composer for the ages.
In many cases, a playing time of less than 50 minutes might be seen as a disadvantage against competing versions, but in the case of such fresh performances, and the absence of any music by Bach's contemporaries that even remotely compares to his in purpose or quality, this release represents a return to a time of sanity when music and performance trumped a mere quantity of notes."
Laurence Vittes
THE GRAMOPHONE
March 2011
"Both players have clearly thought long and hard about how best to present these works and the balance between instruments is near ideal. ...personally I found the sound of both instruments characterful for the most part and well suited to the particular nature of these works. Phrasing is usually well matched, and the curious effect in the third movement of the First Sonata that the cellist seems to be pairing the semiquavers in twos whereas the harpsichord is grouping them in fours may well again be a result of recording and of the nature of the latter instrument. Speeds are well chosen and I greatly enjoyed the sheer vitality of the performances of all three works.
       ... these performances are well worth hearing for anyone wanting to add these delightful works to their collections... the music and its performance both offer considerable rewards. I have five other versions of the works already – you will see that I do very much enjoy them; all have significant virtues. Nonetheless the sheer musicality and joy of the present performances is such that I suspect that I may go to it first next time I want to hear these Sonatas."
John Sheppard
Music Web International
Cellist Peter Seidenberg and harpsichordist Elaine Comparone perform sonatas for viola da gamba and obbligato harpsichord, BWV 1027-1029.  Rising star Seidenberg is cellist with The Queen's Chamber Band, and has performed throughout the US, Europe, and Asia as soloist and chamber musician. He made his solo debut with the Chicago Symphony, and has appeared as soloist with many orchestras including Century Orchestra of Osaka, New American Chamber Orchestra, De Paul Chamber Orchestra, and others. The dynamic harpsichordist Elaine Comparone has established herself as one of the most exciting and innovative keyboardists performing today. Together, they dazzle in these Bach sonatas. John Ostendorf, PRODUCER.
Sonata No. 1
G Major, BWV 1027
1. Adagio (3:47)
2. Allegro, ma non tanto (3:22)
3. Andante (2:39)
4. Allegro moderato (2:55)
Sonata No. 2
D Major, BWV 1028
5. Adagio (2:05)
6. Allegro (4:03)
7. Andante (5:01)
8. Allegro (4:12)
Sonata No. 3
G minor, BWV 1029
9. Vivace (5:32)
10. Adagio (6:32)
11. Allegro (3:43)
---
We Also Recommend
---