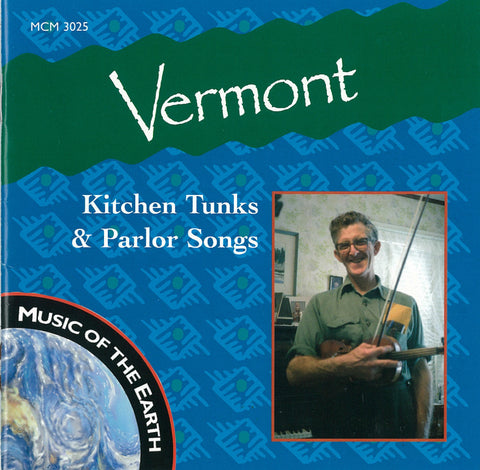 Vermont: Kitchen Tunks and Parlor Songs MCM-3025
---
---
Digital Download available from your favorite site including
The first-ever anthology of Vermont old-time music is the premier North American release in the Music of the Earth CD series on Multicultural Media.
Recorded from 1984-86 in homes and at community events by folklorist-musician-educator Mark Greenberg, "Vermont: Kitchen Tunks and Parlor Songs" contains 49 tunes and songs performed by 24 individuals and groups throughout the state. Many of the songs provided home-made evening entertainment for rural Vermonters before the dominance of mass media, while many of the tunes provided the music for Saturday night kitchen tunks-farmhouse parties with friends and neighbors dancing to old-time tunes played live by local fiddlers, harmonica players, and other musicians.
The selections on "Kitchen Tunks and Parlor Songs" reflect Vermonts Yankee and French-Canadian traditions as well as the impact of Southern styles and popular music. The collections diverse group of fiddlers includes Willy Beaudoin, Freeman Corey, Ron West, Dot Brown, Elwin Corey, and Harold Luce, among others. A variety of harmonica techniques is offered by a number of musicians, while others sing songs ranging from childrens ditties to comic tales to hymns. Theres also whistling, a foot-operated piano "rig," and a square-dance call. The music ranges from such well-known tunes as "Ragtime Annie" and "St. Annes Reel" to the more obscure "Waylons Hornpipe" and "The Harris Piece." Greenberg and Sid Blum provide guitar accompaniments for some of the fiddlers, while Blum joins West for a fiddle duet.
Greenberg has also written an accompanying 24-page essay about Vermont old-time music and biographies of the performers. "I was looking mostly for non-professionals and for people who didnt acquire their music and skills from schools and how-to video cassettes, but from their families and other members of their communities - that is, in the 'traditional', grassroots way," Greenberg says. Greenberg has been active in Vermont music, culture, and education since the early 1970s. He has produced radio documentaries and award-winning recordings for leading folk artists such as Pete Seeger, Doc Watson, Dave Van Ronk, Jane Sapp, and Michael "Beausoleil" Doucet, as well as the video documentary The Unbroken Circle, also available from Multicultural Media. He was the editor of, and a writer for, The JVC Smithsonian Folkways Video Anthologies of Music and Dance of the Americas, Europe, and Africa.
Listen to Samples
---
We Also Recommend
---