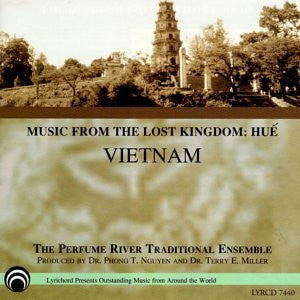 Music from the Lost Kingdom Vietnam, The Perfume River Traditional Ensemble DOWNLOAD ONLY LYR-7440
---
---
Digital Download available from your favorite site including
Download free liner notes below (Mac users use Ctrl + click)
The Court at Hue was the last in a succession of Vietnamese dynasty which preserved the rituals and music that had existed at least since the founding of the Ly dynasty in the 11th century. Every visitor today must hear both the dignified court music, now restored and played at the city's famous Citadel, and the delicately playful chamber music properly heard while floating down the Perfume River. The Perfume River Traditional Ensemble brought these surprisingly joyful sounds to the United States for the first time; raucous oboes and drums, nasal fiddles, the plaintive monochord, clear, sweet voices, all with their characteristic tone bending. An historic event! Produced by Dr. Phong T. Nguyen and Dr. Terry E. Miller, two of the world's foremost Vietnamese Music Scholars, in cooperation with the National Council for the Traditional Arts, The Lowell Folk Festival Committee, and Theodore Edson Parker Foundation, and The International Association for Research in Vietnamese Music.
Tracks:
1.
Dang Dan Cung
(Ascending the Esplanade) ... - 3:11
2.
Non Que Em
(Songs of Comical Hat Making) - 5:13
3.
Tuong Tu Khuc
(A Lover's Song) - 2:36
4. Ai Phong Luu (Who Is Refined in the Arts?) - 3:25
5. Ly Hoai Nam/Ly Ngua (Remembering the South... - 2:58
6. Luu Thuy, Kim Tien, Xuan Phong, Long Ho - 2:26
7. Nho Hue (Memories of Hué) - 7:17
8. Ly Muoi Thuong (Ten Reasons to Love) - 4:27
9. Nuoc Non Ngan Dam 10. Canh Dep Co Do (The Beauty of the Old... - 4:22
11. Ho Gia Gao (Rice Pestling Song) - 5:13
12. Ma Vu/Du Xuan (Horse Dance/Spring... - 4:50
---
We Also Recommend
---