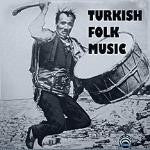 Turkish Folk Music LAS-7289
---
---
Part of the Lyrichord Archive Series - Never before released recordings on CD from the Lyrichord vaults

First released in the late 1970s, this important field recording was made in and around Sivrialan, a small, remote and unchanged village in Turkey. This collection of music presents the music playing of both professional and non-professional musicians alike in a number of significant settings and social gatherings, as well as the primary musical creative force of such rural areas, the asik, a bard who functions as poet, composer, singer, instrumentalist, philosopher, religious leader, and social commentator. The recording presents both religious and secular music. The religious music accompanies such events as weddings, funerals and Mohammed's birthday, Sultan navruzu, while the secular repertoire extends to harvest songs and lullabies, and songs of entertainment which are performed at celebrations and social gatherings. Through these recordings, you can experience the musical soundscape that punctuated and celebrated all aspects of traditional Sivrialan village life for generations. 

Tracks:
1. Hey Mount Karlik - 2:53
2. From a Tyrant's Work, the World Was Made - 4:47
3. That Bloody Tyrant's Works - 4:22
4. Anatolian Medlodies - 7:19
5. Harvest Song "Are the Fields Oval?" - 2:29
6. Dervish Village Dance "My Affection Goes to my Lover" - 8:10
7. Wedding Lament "Bride's Cry" - 2:34
8. Bridegroom's Song "The Rivers of Heaven" - 5:52
9. Lullaby "Evening Came the Sunset" - 3:30
10. Wedding Dance - 1:28

Lyrichord, in association with Multicultural Media, is pleased to present the Lyrichord Archive Series. This series will make many important Lyrichord recordings of the past available again for the first time in years. These are special-edition compact discs with liner notes. illustrations and photographs reproduced as .pdf files, and included right on the same CD as the audio program. These liner notes can then be downloaded and printed out or saved on any computer.

The Lyrichord Archive Series is designed with students, libraries, educational institutions, music historians and music enthusiasts in mind and is not available in stores.
---
We Also Recommend
---