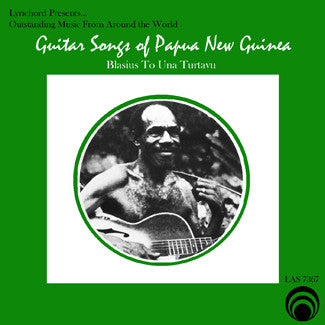 Guitar Songs of Papua, New Guinea DOWNLOAD ONLY LAS-7367
---
---
Digital Download available from your favorite site including
Part of the Lyrichord Archive Series -

Rare Out-of-Print LP Re-Release on Digital Download Only

 from the Lyrichord vaults
A rare look at the life and songs of Papuan balladeer, Blasius To Una Turtavu, a Papuan villager who, after surviving great dangers during WWII, created many humorous satirical works in Pidgin, as well as moving ballads in his native Kuanua tongue.
Tracks:
1. O Papua New Guinea 2:24
2. Amari Na Ravian 2:16
3. Black Submarine 5:27
4. Fopela Lek 4:15
5. Aura Turagan I Nodup 2:16
6. Nai Ra Kinadik 2:34
7. Iau Varogop Nat Na Pusi 3:50
8. Bun Bilong Tolai 3:10
9. Lucy Yu No Ken Lusim Promis 3:52
10. Kunai Dumdum 3:58
11. Iau Abul Ramalmal 2:16
12. Mi A Skulboi 3:06
13. The Lonely Evening 1:58 14. Iau Lus Man Takado 3:43
Lyrichord, in association with Multicultural Media, is pleased to present the Lyrichord Archive Series. This series will make many important Lyrichord recordings of the past available again for the first time in years. These are special-edition compact discs with liner notes. illustrations and photographs reproduced as .pdf files, and included right on the same CD as the audio program. These liner notes can then be downloaded and printed out or saved on any computer.
The Lyrichord Archive Series is designed with students, libraries, educational institutions, music historians and music enthusiasts in mind and is not available in stores.
---
We Also Recommend
---